UBTAN FOR THE WINTER BRIDES AND HER MATES
 Happiness and Confidence are the prettiest attire you can wear for life!!
Abstract
Ubtan – an ancient and the most effective method to rejuvenate skin. Ayurveda always works with natural herbs and ingredients. Here is the best home remedy to have a blemish-free skin with the natural ingredients only. It will help you shine brighter not for a day or two but for life, that also with no side-effects at all. Never let your Aura decline.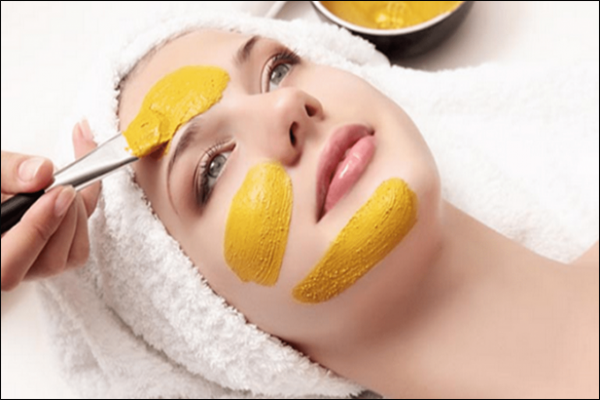 Beat the Age, Greet the Natural Glow forever!!
Introduction
Traditionally, Ubtan was the one and the only method used to remove the dead skin and restore the natural glow of a person. When it comes to make-up or beauty products, the first imagination comes in mind is a woman. But, do only women need to take care of their skin and not the men? The answer is No. They both have to do it. The difference is women are more conscious about their beauty and especially their face, hands, and feet. As healthy and glowing skin encourages their self-confidence and also adds to their natural beauty. During the winter season, our skin demands more attention due to the dry environment and lack of moisturization. When there is a wedding falls in winter, then the curiosity about the skincare also increases especially of the bride.
Bride and Ubtan
Women try to take the best care of their skin forever. But as their wedding day come closer, they become more curious about it. The main concern of every girl is to have the best make-up on her wedding day and the natural glow that can make her comfortable and does not have any side-effects on the skin. On the wedding day, every bride wants to look different, photogenic and more beautiful. With such thoughts in mind, she goes for the best make-up products and the best beauticians she can afford. But the beauty products available in the market do not suit every skin type or every person. There are specific products available for various skin types but some are so costly that a normal girl can't afford it. Sometimes, in order to look at a perfect bride on her wedding day, she even buys such products but mostly ends up with lower satisfaction than expected.
Thoughts about Skin Care during Wedding Days
Whether a normal girl or a bride, everyone wants to look beautiful at weddings. Some of the questions that come in mind at that time are:
How to whiten the skin at least for all the days during wedding rituals?
Will this glow remain till the last ritual?
How to manage the skin moisturization 24*7?
What if the application of beauty products causes pimples or blemishes?
Terminate Them with the Best Home Remedy – Ubtan
          Beauty is Power!! Right, Make-up Enhances that!!
                      It's a secret!!
Why Spend More Money and Time Outside when you can Multiply Your Beauty at Home?
Here is the best make-up, known as homemade Ubtan that you can add to your Skin Care Basket and have the natural glow not only in the wedding era but forever. Let's go for various types of natural and homemade ubtans that can be prepared in no time, and can be used comfortably anywhere for the constant glow. Like other beauty products, they do not cause any side effects and result in perpetual glowing skin making you feel younger forever. You can use it for the face, neck, hands, and feet including the whole body to have a complete fair complexion.
Ubtan enhances beauty and makes the skin softer and smoother by eliminating the dead skin. It makes you feel naturally beautiful without putting up heavy make-up for the same. It possesses the best properties to counteract the sun-damage.
Benefits of Ubtan
Enhances the beauty
Fights skin infections
Eliminates Dead Skin
Contributes to skin softness and shine
Reduces facial hair
Stimulates blood circulation
Maintains the skin health
Removes and prevents blemishes
Makes you look younger
Balances the natural skin moisture
Types of Ubtan for Glowing Skin
1. Haldi Ubtan
There are many rituals in Hindu marriages including a Haldi (Turmeric) ceremony. In which an ubtan is prepared with Haldi and some other effective ingredients in order to complete the ritual as well as to make the bride glow shinier. This ceremony is believed to be done for wishing the bride and the groom, blemish-free skin for a beautiful life ahead.
Ingredients
Raw Haldi
Neem leaves
Rose Water
Prepare a thick paste of all these ingredients, apply on the skin, rub gently with milk, and rinse off.
2. Choker and Malai Ubtan
A mixture of the following ingredients is used to have an instant glow and maintain the smoothness and softness of the skin.
Ingredients
Wheat bran (Choker)
Gram Flour
Cream of Milk (Malai) or Curd
Pinch of Turmeric
Oil
Apply it before 20 to 30 minutes of taking a bath. Wash it off scrubbing gently.
3. Curd and Honey Ubtan
Curd, being the A thick paste prepared with mixing up all the ingredients as mentioned below can be applied over the whole body before half an hour of a bath.
Ingredients
Honey
Curd
Choker
Almonds powder
Dried Orange Powder
Lemon Peels Powder
Pinch of Turmeric
Wash it off by scrubbing in a circular manner.
4. Oatmeal Ubtan
Oats have wonderful effects on oily and blackheads prone skin. Cleanse your skin and make it softer with oatmeal.
For Dry Skin – Apply the mix of oatmeal with curd for a minimum of 15 min and rinse with plain water.
For Oily Skin – Make a paste of oatmeal, honey, a few drops of almond oil or some pinches of almond powder and milk. Apply it on the face for a minimum of 15 min., let it dry and wash off with plain water.
5. Oats Scrub
It is a very effective and healthy ubtan for facial skin.
Oats – 1 teaspoon
Dried Orange Powder – ½ teaspoon
Lemon Peels Powder – ½ teaspoon
Almonds Powder – 1 teaspoon
Honey – 1 teaspoon
Yogurt – 1 teaspoon
Mix all the above ingredients in the given quantity, apply the paste on face and rub gently for 5 to 10 min, wash off with normal water.
Conclusion
So, what are you waiting for guys!! Have a natural glow with the homemade obtain and keep shining and glowing.
        Stay Young!! Stay beautiful!!
Nothing can make a woman look beautiful like the glow on her wedding day!