Which Night Cream is Best For Glowing Skin?
Crafted By Nature
People often think twice when it comes to add skin care step in the beauty regime. While before start using night cream the obvious question pops up in the mind that why should I be using night cream? Well! Night is the only time when your skin is at rest & undisturbed. Hence, this is the time when your skin is in repairing mode. Aiding your skin in this repairing process with the light and right night cream is a very important part of skincare. Night creams help to rehydrate your skin & fight against free radicals which are responsible for skin damage, thereby restoring your skin's natural glow.
Most of you will complain about the skin problems but not many of you will know the benefits that the night cream will provide you.  The skin requires different cream during the day as well as night. Your skin tends to take lot of stress and environment contaminants on a daily basis and due to this on a regular basis skin tends to lose its glow, elasticity and firmness. Usually your skin absorbs all the essential nutrients when you are asleep, that is why using night cream is advisable before you are off to bed. It helps to rejuvenate, clarify, and replenish your skin.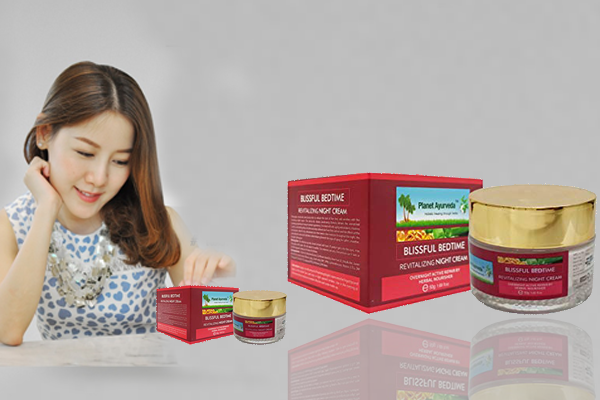 In other words you could also say that using night creams in skin care routine is a best way to get awarded with healthy and flawless looking skin. After all, night time is the best time to pamper your skin and replenish it after long hours of work, stress, exposure to dirt or dust and pollution.
At What Age You Should Start Using Blissful Bedtime Revitalizing Night Cream?
It's never too early to start pampering your skin as night creams not only smoothen the look of skin, they also restore beautiful glowing skin that looks youthful and rejuvenated.
Wake up with fresh, beautiful, deeply hydrated and smooth skin each morning with Blissful Bedtime revitalizing Night Cream
We tailored Blissful Bedtime Revitalizing Night Cream specifically for sleeping beauties in their 20s, 30s, 40s, and beyond which offers herbal cream made with the combination of herbs which are very beneficial for the skin
"Whilst you sleep, your skin comes alive"
How Could You Pick the Right Night Cream?
A right night cream has become dream for many. Night creams in the market are generally heavy in nature and apart from this they also contain chemicals which tend to make your skin sensitive hence, avoid a night cream with chemicals and very strong active compounds and stick to the natural ones.
Therefore it is advisable to switch to the natural ingredients which not only perform but also keep your skin away from the effects of chemicals.
Benefits of Blissful Bedtime Revitalizing Night Cream by Planet Ayurveda:
Organic products have vast importance to maintain a health and wellness of your skin without any after effects. This cream is also packed with several skin benefits:
The Power of Anti Aging Cell activating natural ingredients present in the cream helps in repairing the skin like reducing aging effects like fine lines, wrinkles and improve your skin's firmness.
Rehydration of The Skin Environmental contaminants and dangerous sunrays often leave the skin dehydrated so this is why you need to embrace "Blissful Bedtime Revitalizing Night Cream" which will supply moisture to the dry parts of your skin.
Restore Elesticity The active nutrients helps your skin to restore its elasticity
Renewal of Cells This night cream provides the help to the cells renewal process
Natural Ingredients The formulation of this cream  is  made up of natural ingredients
Boosts Collagrn Fibers This night cream prevents the skin from sagging
Blood Circulation It also helps in normal flow of the blood.
Flawless Skin It gives a spotless, smooth, radiant, beautiful and healthy skin
Ayurvedic Approach
As per Ayurveda, issues of skin determines with the dominance of Kapha, Pitta and Vata
Bhrajaka Pitta is a type of Pitta element which is responsible for the health of the skin and  the imbalance of this dosha leads to fine lines, dullness, dark spots, rashes and wrinkles etc.
Vyana Vata It is responsible for dry, rough, poor blood flow and stress related problems
Tarpaka and Shleshka Kapha It is a type of Kapha which is responsible for providing moisture to the parts of body.
What are the Ingredients in Blissful Bedtime Revitalizing Night Cream
It is vital that you have some understanding of what goes into your skin

1. Vitamin E
When your skin is exposed to dangerous UV rays of sun, it produces free radicals and other molecules that are sufficient to damage your skin collagen, anti-oxidants present in vitamin E fight those effects in order to neutralize the free radicals. It compliments your sunscreen. We have added antioxidants like vitamin E in this cream as your skin's own battalion. Vitamin E also keeps your skin hydrated and clean.
2. Aloe Vera Extract (Aloe Barbadensis)
Aloe Vera has anti-oxidant properties which make it ideal to heal sunburn relatively faster than usual. It also acts as a great moisturizer and it is beneficial for dry skin as well as oily skin. With age skin loses its elasticity and sheen, Vitamin C and beta carotene present in Aloe Vera help to make the skin firm.
3. Shea Butter (Vitellaria Paradoxa)
Shea butter has extensive anti-inflammatory properties which calm the redness and swelling of your face. It helps your skin to have a healthy turnover of new cells, and also supports the structure and firmness of your skin. It also acts as a great moisturizer to dry skin.
4. Sweet Almond Oil (Pranus Dulcis)
Sweet almond oil is a rich source of Vitamin E and Minerals like calcium, zinc and magnesium. Sweet almond oil works as an excellent skin lightening agent. It also treats sunburn, skin discoloration, under eye dark circles and blemishes etc as well as prevents premature ageing.
5. Sunflower Seed Oil (Helianthus Annuus)
Sunflower seed oil is high in Vitamin A, C, D and E which makes it effective in treating acne. It also acts as an anti-oxidant to regenerate new skin cells
6. Olive Fruit Oil (Olea Europaea)
Olive seed oil is a rich source of many vitamins and anti-oxidants which restore the damaged skin cells, great for moisturizing as it penetrates deeply into the skin at the same time doesn't clog pores and prevents acne etc.
What's the Right Way to Apply Blissful Bedtime Revitalizing Night Cream?
Step 1: Cleanse
Wash your face with a "De Grease Face Wash by Planet Ayurveda".
Step 2: Tone
Apply toner "Cucumber Toner by Planet Ayurveda"
Step 3: Dot on
Take a little amount of "Blissful Bedtime Revitalizing Night Cream "and dot your face with it. One dot each on forehead, both cheeks, nose and chin. That's 5 dots totally. Now gently massage it into skin using your finger-tips, with upward-outward circular motion. Don't forget the neck area.
Indication
Apply night cream at least 10 minutes before you hit the bed.
Start with less quantity, to understand how much your skin needs.