Top 7 Effective Home Remedies To Treat Bronchitis
Bronchitis is the one of disorder of your bronchial tube. People who are suffering from bronchitis have many problems. Bronchitis mainly causes an inflammation of the inner lining of your bronchial tube. The bronchial tube helps to carry air from your lungs.  This disease leads to respiratory infection due to which there is a severe cough, cold and chest pain in the patient. There is the production of thickened mucus during a cough which can be discolored. In the early stages of bronchitis, it causes normal illness in the patient, but may follow serious problem such as chronic bronchitis which is more severe than acute bronchitis.  The acute and chronic bronchitis are two main types of bronchitis.
Acute bronchitis
It is the condition when there is inflammation in your bronchial tree. The bronchial tree helps us to carry air to the lungs.  The bronchial tree has a tuber which mainly performs this function. In acute bronchitis this tube gets inflamed and it makes it difficult for you to breath.
Symptoms
A sore throat
Tiredness
Chest pain during continuous coughing
Sneezing problem
Fever (100oF TO 100.40F)
Wheezing
Problem in breathing
Body aches
Feeling cold
Muscles ache
Chronic bronchitis
It is a more severe condition of bronchitis in which the bronchial tubes produce a lot of mucus. Due to this mucus, there is swelling in the tissues and which cause narrowing of the bronchial tubes.  Due to bronchitis, there is continuous coughing last for 3 weeks. This condition may lead to severe difficulties in breathing.  Due to heavy mucus in the inner lining of bronchial tubes, many cells in bronchial tubes lose their function of cilia. Cilia help to flush out the excess fluid from the bronchial tubes.  Sometimes these ciliated cells are replaced by goblets cells; these cells are also responsible for secretion of mucus. Mucus is the excellent medium for bacterial growth, which ultimately causes chronic bronchitis.
Symptoms
Sputum production
Wheezing
Breathing problem
Chest pain due to a cough
Head pain
Nasal congestion
Pain in the throat
Natural Home Remedies
1. Black pepper, Saunth, and Pipli
Black pepper has very good antibacterial and antioxidant property which helps to cure the bronchitis problem. This herb is used to get rid of nasal congestion. It has also anti-inflammatory property, which protects your bronchial tubes from inflammation. Pipli and Saunth has also anti-inflammatory property which performs the same function as black pepper in the bronchial tubes.
Usage:
Take one tablespoon of freshly ground black pepper and add one tablespoon of honey to it.
Add boiling water to it and rest it for 10-15 minutes.
Strain and drink it.
2. Giloy Juice
Giloy is ayurvedic herb which is used in Ayurveda from many years ago. This herb has very good medicinal properties. It gives a soothing effect on the lining of the throat and prevents the inflammation in the inner lining of bronchial tubes.
Usage:
Take Giloy stems and wash them property.
Cut them into small pieces and put into the grinder, add some water and grinds well.
After that strain this juice and drink two times in day, especially in morning and evening.
3. Garlic and Honey Tea
Garlic is very nutritious for our health. It contains active compounds which help to cure many body disorders in humans.  Garlic contains allicin compound which is responsible for the aroma of fresh garlic and about honey, we all knows that it provides a soothing effect to our bronchial tube.
Usage:
Take 2- 3 garlic and chop them.
Add one tablespoon of honey to it.
Swallow this mixture of honey and garlic. Do not chew it.
Take this mixture twice in a day.
4. Tomato Soup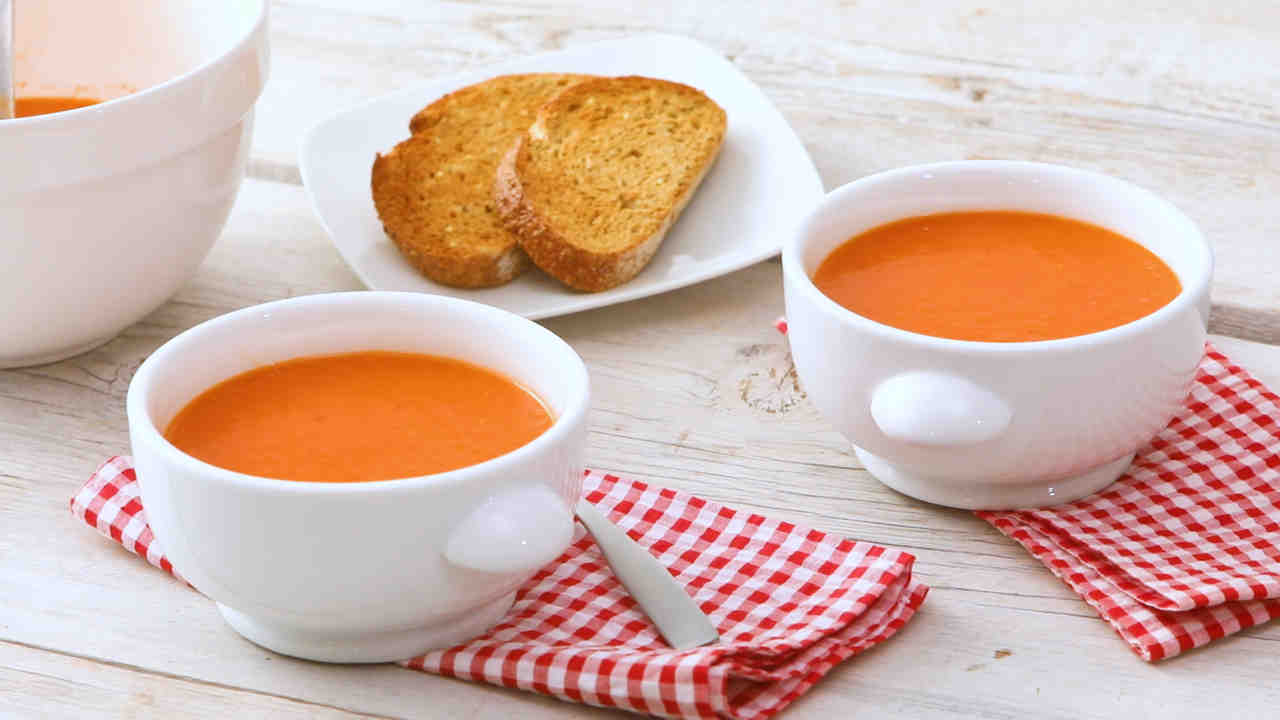 Tomatoes are a very good source of vitamin C which helps to reduce the excesses formation of mucus during bronchitis.  Tomatoes also contain four major carotenoids such as alpha-beta carotene, lycopene, and lutein.
Usage:
Take 2-3 tomatoes to wash them properly.
Boil the tomatoes in water.
Peel them properly and then crushed the tomatoes.
Strain and put this soup into a bowl.
Add some freshly ground pepper on the top.
5. Ginger
Ginger has a very good Ayurvedic healing property. It contains gingerol a bioactive compound which has very high anti-inflammatory and antioxidant property. It overcomes the inflammation of the inner lining of the bronchial tube. It is also very effective in nausea, soreness, muscle pain, osteoarthritis, and chronic indigestion and also reduces menstrual pain.
Usage:
Take one glass of water and boil it.
Add some chopped garlic into it and boil it for 10 minutes.
Strain this drink, put them into a glass and rest it for 5 minutes.
After 5 minutes drink it.
6. Turmeric
Turmeric shows more anti-inflammatory effect than ginger. It also contains an antioxidant property which helps to reduce the bronchitis effect and symptoms in your body. In Ayurveda turmeric is used for many years for the treatment of many diseases.
Usage:
Take ½ teaspoon of powdered turmeric in a cup.
Add 1-2 tablespoons of honey to it.
Mix them well and make a paste.
Consume this paste 1-2 times in a day.
7. Inhale Some Steam
Inhaled steam is very good to treat mucus problems in bronchitis patients. Along with warm water, you can also use some essential oil such as eucalyptus oil, which has a very good anti-inflammatory effect. It provides relief from wheezing and mucus.
Usage:
Take a bowl of hot water and add some drops of Eucalyptus oil into it.
Then put your head over the bowl of hot water and cover your head with a towel.
Breath in this warm moisture helps to open up a clogged airway.