Natural Treatment For Diffuse Idiopathic Skeletal hyperostosis (DISH)
Abstract
Diffuse idiopathic skeletal hyperostosis is a disease of ligaments of the spine. Ligaments are the fibrous connective tissue that connects bones to bones. These are the bands of tough elastic tissue around your joints. They give support to the joints and limit their movements. These ligaments are around knees, ankles, elbows, shoulders and other joints. When there is a stretching or tearing of ligaments then it can make the joints unstable. The most common injury of ligaments come from playing sports. In this article, we are going to discuss diffuse-idiopathic-skeletal-hyperostosis disease and its Ayurvedic management. 
Introduction
Diffuse idiopathic skeletal hyperostosis is also known as DISH disease. This is a common skeletal disorder that is characterized by a bony hardening of the ligaments in areas where they attach to the spine. This disease is also known as Forestier's disease. There is an abnormal calcification of the soft tissues that surrounds the joints of the spine and also affects the peripheral or appendicular skeleton. In this disease, there is a formation of new bone in the spine (most commonly thoracic spine) along the anterior longitudinal ligament and also sometimes the posterior longitudinal ligament. This may lead to partial or complete fusion of adjacent vertebrae. DISH disease manifests as a calcific enthesopathy with pathologic bone formation in the ligaments and tendons where they attach to bone. 
Etiology/Causes
This disease is caused by the buildup of calcium salts in the tendon and ligaments. But the exact reason why this happens is not understood yet.
Other Possible Causes Of The Bone Growth Are
Mechanical factors, such as repetitive lifting and moving of heavy objects

Dietary factors such as too much consumption of Vitamin A rich food

Metabolic conditions such as diabetes mellitus, acromegaly and obesity
Clinical Features/Signs And Symptoms
Generally the people who are suffering from this disease are symptomatic. But the person who has some symptoms then their upper portion of the back and neck is commonly affected.
Symptoms Of This Disease Are
Stiffness

Pain

Loss of range of motion

Hoarseness of voice

Dyspnea

Tingling or numbness in legs
Risk Factors
Risk Factors Include
Men are more likely to develop this disease

This is most common in older patients (people older than 50 years)

Patient suffering from diabetes
Complications
If Not Treated In Time Then The Following Complications May Arise
Disability

Difficulty in swallowing

Spinal fracture
Diagnosis 
A diagnosis of DISH disease is made by doing some diagnostic tests and a thorough medical history.
The Tests For This Disease Are
X-rays

MRI (Magnetic resonance imaging)

CT scan
Ayurvedic Approach For The Management Of Diffuse Idiopathic Skeletal Hyperostosis
In Ayurveda, there are many herbal formulations for the treatment of this disease. For these  This is an herbal manufacturing company that manufactures the herbal products from the use of extracts of potential herbs and also they are made by ancient time tested formulas. This company is GMP certified and all the products of this company are 100% natural and vegetarian. The herbal products are free from chemicals and preservatives and safe to use in any disease.
Planet Ayurveda Offers The Following Herbal Products
Boswellia Curcumin

Joint Aid Plus

Yograj Guggul

Ashwagandha Capsules

Shilajit Capsules

RumoGin 5 Capsules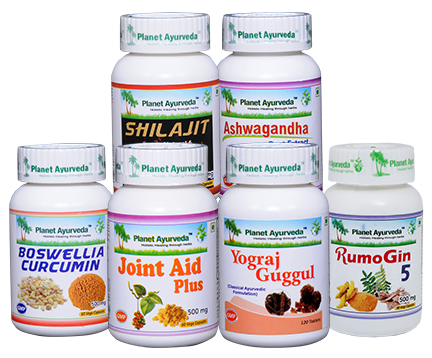 Product Description
1. Boswellia Curcumin
This is a poly herbal formulation and used in this condition by alleviating pain and inflammation on the affected site. This formulation is made from the standardized extracts of two wonderful herbs that are Shallaki (Boswellia serrata) and Curcumin (Curcuma longa). These are effective combinations of anti-inflammatory herbs. These herbs increase mobility and reduce arthritic pain. Boswellia Curcumin helps in reducing inflammation and promotes circulation to the joints and also improves flexibility. These capsules are good for back pain, neck pain, knee pain, wrist pain, elbow pain, etc.  
Dosage: 2 capsules twice a day after meals with plain water
2. Joint Aid Plus
This formulation is a natural herbal blend to fight joint pains and inflammations. This formulation helps to reduce pain and swelling as it is made from the standardized extracts of herbs like Nirgundi (Vitex negundo), Shallaki (Boswellia serrata), Guggul (Commiphora mukul), Shunthi (Zingiber officinale), Ashwagandha (Withania somnifera). These ingredients work quickly and are an excellent alternative to painkillers without any side effects. The degeneration in the joints are also controlled by these ingredients. This joint aid plus provides relief from all the joint disorders.
Dosage: 1 capsule twice a day after meals with plain water
3. Yograj Guggul
This is a natural herbal supplement for musculoskeletal disorders. It pacifies Vata dosha and is helpful in managing joint pain. This formulation is also helpful to pacify vata dosha in the nerves and muscles. It contains Guggul (Commiphora mukul), Chitrak (Plumbago zeylanica), Pippali (Piper longum), Ajwain (Carum copticum), Kulanjan (Alpinia galanga), devdaru (Cedrus deodara), etc. These herbs are very effective for maintaining the health of the joints and promote good circulation to the joints. It helps to maintain healthy metabolism and also remove toxins from the body. Yograj guggul rejuvenates and strengthens the skeletal and neuromuscular systems.
Dosage: 2 tablets twice a day after meals with plain water
4. Ashwagandha Capsules
This is a single herbal formulation of Planet Ayurveda. This is a natural stress relief herbal supplement. The capsules are made from the standardized extracts of Ashwagandha (Withania Somnifera). It is useful in debilitating conditions. It effectively acts as a nerve tonic that enhances physical as well as mental stamina. It nourishes the ligaments of the body and it is a natural rejuvenator that helps to maintain proper nourishment of the tissues, particularly muscles and bones. It brings the strength back to muscles, relieves the muscles and calms down the system.
Dosage: 1 capsule twice a day after meals with plain water
5. Shilajit Capsules
This is a single mineral formulation. It is prepared from the standardized extracts of Shilajit (Asphaltum punjabianum). This works best for weakness due to any reason. This formulation is an effective anti-aging and a powerful rejuvenator of the body. This capsule acts as a Rasayan in nature. This is the best supplement for providing nourishment to the body. It has high affinity for free radicals and helps in detoxifying the body from these free radicals.
Dosage: 1 capsule twice a day after meals with plain water
6. RumoGin 5 Capsules
 This poly herbal formulation has high affinity for treating joint problems. This herbal formulation rejuvenates the joints naturally. These capsules are made from the standardized extracts of Haridra (Curcuma longa), Shunthi (Zingiber officinale), Shallaki (Boswellia serrata), Maricha (Piper nigrum) and Pippali (Piper longum). It relieves joint pain and swelling in arthritis. The herbs in this formulation like pippali,maricha and shunthi are also helpful in digestive problems like indigestion, dyspepsia, flatulence, nausea, etc. This is a complete solution for all painful joints. The degeneration in joints is also controlled by this herbal formulation. This is a potent herbal combination that has anti-inflammatory, analgesic and anti-rheumatic properties.
Dosage: 1 capsule twice a day after meals with plain water
Contact my assistant to provide you the costing / ordering and delivery information at – costing.planetayurveda@gmail.com or call at +91-172-5214030 Or Check Website – www.PlanetAyurveda.com
Conclusion
We can manage this condition by proper diet and lifestyle and also follow the Ayurvedic herbs and herbal formulation. The herbal formulation shows great results in managing the chronic conditions. For better results just follow the herbal treatment from Planet Ayurveda because the products of this company are 100% natural and free from chemicals and additives.