Natural Treatment for Allergic Bronchopulmonary Aspergillosis (ABPA)
Abstract
Allergic bronchopulmonary aspergillosis (ABPA) is a condition caused by a fungus called Aspergillus (Aspergillus fumigatus). It is mainly due to the extreme response of the immune system to this fungus. It can also occur in a person with a healthy immune system. The person with this condition experience coughing, wheezing, breathlessness, etc. other symptoms. It can also further causes some conditions like atopic dermatitis, urticaria, etc. Therefore, to treat the condition in the early stages it is necessary to adopt appropriate treatment. Ayurveda provides treatment of the condition including herbs, herbal formulation and manage the condition from the roots.Here some herbs, dietary guidelines and products of Planet Ayurveda are given which are effective for allergic bronchopulmonary aspergillosis.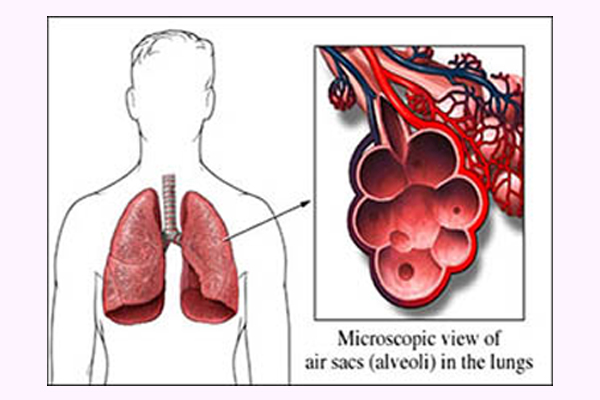 Introduction
Allergic bronchopulmonary aspergillosis is defined as an allergic condition identified by an excessive immune system response to the mold/fungus named Aspergillus. Most commonly caused by Aspergillus fumigatus. This fungus found everywhere in soil and also in the saliva or sputum of a healthy person. The people with cystic fibrosis or asthma are more prone to have this condition.  Aspergillus fumigatus also causes another lung condition called aspergilloses.
Cause of Allergic Bronchopulmonary Aspergillosis
Although all of us are often exposed to this fungus called Aspergillus, its response is rare in people with healthy immune systems. However, in certain people, the immune system overreacts to the antigens of Aspergillus fumigatus present in the lungs. When this Aspergillus fungus enters the body, it can cause a chronic allergic reaction that leads to lung inflammation. It can cause damage to the airways and result in severe conditions such as lung damage.Many people with ABPA suffer from allergic conditions such as atopic dermatitis (eczema), urticaria, allergic rhinitis (hay fever) and sinusitis.Many people with Allergic bronchopulmonary aspergillosis may also suffer from allergic diseases such as allergic rhinitis or hay fever, atopic dermatitis, hives or urticaria, and sinusitis.
Symptoms of Allergic Bronchopulmonary Aspergillosis
Almost all patients with Allergic bronchopulmonary aspergillosis have clinically diagnosed with asthma and the following are the symptoms that occur in the patient.
Wheezing
Coughing
Shortness of breath
Exercise intolerance
Some symptoms occur in moderate and severe cases 
Bronchiectasis
Thick sputum production
Recurrent infections including pleuritic chest pain and fever
Diagnosis of Allergic Bronchopulmonary Aspergillosis
Diagnosis for Allergic bronchopulmonary aspergillosis (ABPA) is made according to medical history and some tests are also recommended such as CT scans or X-rays, allergic skin tests, and blood tests.
Ayurvedic Treatment for Allergic Bronchopulmonary Aspergillosis
Ayurveda provides herbs and herbal formulations that strengthen our immune system and support the healthy functioning of our lungs and also prevent the symptoms of allergic bronchopulmonary aspergillosis. The most amazing fact about choosing Ayurvedic remedies is that they not only manage the symptoms of the condition but also eradicate the root cause.
Herbs for Allergic Bronchitis
Ginger
Mulethi
Turmeric
Vasa
Ashwagandha
Tulsi
  Ginger (Zingiber officinale):This herb holds great anti-inflammatory, anti-oxidant and anti-tumor properties.
  Mulethi (Glycyrrhiza glabra):It possesses expectorant properties that make it efficient in cough, controlling symptoms of asthma, cough, and bronchitis, etc.
  Turmeric (Curcuma longa):It works as a natural antibiotic and possesses anti-inflammatory properties.
  Vasa (Adhatoda vasica):This herb is a natural expectorant, anti-microbial, antitussive, and anti-inflammatory.
  Ashwagandha (Withania somnifera): It possesses antioxidant, anti-inflammatory, and rejuvenating properties.
  Tulsi (Ocimum tenuiflorum): It holds antimicrobial, anti-inflammatory, adaptogenic, and immunomodulatory properties.
Herbal Remedies by Planet Ayurveda for Allergic Bronchopulmonary Aspergillosis
Planet Ayurveda provides herbal remedies safe and effective for allergic bronchopulmonary aspergillosis. They provide ABPA Care Pack which includes herbal products manufactured under the strict guidance of Ayurvedic practitioners and use the best quality of herbs to prepare them. Herbal products are free from any chemicals and preservatives, so they are safe to use and do not cause any side effects.

1. Curcumin Capsules
These capsules are prepared by adding a standardized extract of Curcuma longa. This formulation is loaded with anti-allergic properties that can help the body to combat allergic reaction symptoms caused by fungus. It also provides relief from the symptoms such as shortness of breath, coughing and wheezing. It also possesses immune-boosting properties. Thus helpful in the treatment of Allergic bronchopulmonary aspergillosis.
Dosage: 1-2 capsules two times a day with plain water after meals.
2. Praanrakshak Churna
It is prepared using a combination of effective herbs such as Shirish, Kantkari, Anantmool, Vasa, Bharangi, Twak, and Mulethi. These herbs hold antimicrobial, anti-inflammatory, and antipyretic properties and also provide relief from fever, cough, breathlessness and body pain. It also boosts the immunity and healthy functioning of the respiratory system. Thus, this formulation is beneficial in effective management of Allergic bronchopulmonary aspergillosis.
Dosage: 1 tsp two times a day with plain water after half hour of meals.
3.Bronco Plan Syrup
This formulation of Planet Ayurveda is very effective for the respiratory system. It contains many herbs. This formulation acts as an expectorant, therefore helps to relieve the cough. It helps to strengthen the respiratory system and helpful in many respiratory diseases like asthma and bronchitis by easing the airflow to the lungs. Thus it is also effective in the treatment of Allergic bronchopulmonary aspergillosis.
Dosage: 1-2 teaspoon twice daily.
4. Vasaka

 Capsules
It is formulated by using a pure and standardized herbal extract of vasaka herb, which possesses antibacterial properties that make this product effective against bacteria and fungus. This product acts as a natural expectorant that can help remove phlegm from the lungs while maintaining the healthy functioning of the respiratory system.
Dosage: 1 capsule twice daily with plain water.
5. Brahmi

 Chyawanprash
Brahmi chyawanprash is an effective herbal formulation for Allergic bronchopulmonary aspergillosis. It is prepared by many amazing herbs such as Brahmi with such as Bhumi Amla, Shatavari, Ashwagandha, Punarnava, Jivanti, Vasaka, Chandan, Chotielaichi, Kesar, Pipali, Lawang, Tejpata, Dalchini, etc. Brahmi chyawanprash supports the healthy functioning of the immune system and also helpful in various autoimmune diseases.
Dosage: 1 teaspoonful twice or thrice a day with plain water or milk after meals.
6. Tulsi

 Capsules
These capsules are prepared by using a pure extract of Tulsi (Ocimum sanctum). The tulsi capsules are effective herbal formulations by planet Ayurveda for Allergic bronchopulmonary aspergillosis. Tulsi possesses antimicrobial properties and also boosts the immune system. It also provides relief from cough, headache, fever, breathlessness, etc.
Dosage: 2 capsules twice a day with plain water after meals.
Dietary Guidelines
Food to be Added
Vegetables: Peas,Radish, Cauliflower, Carrot, Bottle gourd,Broccoli, Round gourd, Bitter gourd, Beans, Garlic,Ginger.
Fruits: Apple, Papaya, Pear, Sugar cane, Musk melon, Pomegranate.
Spices: Cumin, Coriander, Turmeric, Fennel, Fenugreek,Pepper,Garlic, Salt (limited)
Drinks: Coconut water, Clear soups, Herbal tea, Beetroot juice, Sugarcane juice, Bitter gourd juice, Gooseberry juice, Pumpkin juice
Flesh Foods: Egg white (limit)
Dry Fruits: Sunflower seeds, Flaxseed,Almonds,Walnut, and Raisins (soaked)
Fats: Sunflower oil, Cow ghee, Canola oil, Mustard oil, Olive oil
Food to be Avoided
Vegetables: Okra, Eggplant, Beans, Mushroom, Potato,Taro roots, Cabbage, Onions, and canned vegetable
Fruits: Peaches, Orange, All Berries, Apricot, Grapes, All citrus fruits, and Dried Fruits.
Dairy Products: Milk and products, Cheese, Buttermilk,Condensed milk
Pulses: Whole pulses, Soy and its products
Spices:Cloves, Green chili, Red chili,
Drinks: Coffee, Tea, Alcohol.
Flesh Foods:Meat (Raw, Uncooked and Processed), fish especially Shark, Swordfish, Selfish, Tuna and Marlin, Pork, Burgers,Meat patties, Organ meat like – Red meat, Lobster, Crab,Lamb, Lean beef, Prawns,Turkey, etc.
Dry Fruits: Cashew nuts, Brazil nuts, Peanuts, Pistachios
Fats: Unsaturated fats, Cream, Butter, and Palm oil, Hydrogenated oil,Coconut oil.
Conclusion
Complete information concludes that natural herbs and herbal formulations give effective results to strengthen your body to fight allergies and also boost your immunity. Planet Ayurveda's ABPA Care Pack is very beneficial to treat Allergic bronchopulmonary aspergillosis.