Herbal Remedies to Increase the Level of Glutathione
What is Glutathione?
Glutathione is a tripeptide, present in plants, animals and various bacteria. Glutathione is also involved in the transport of amino acids across cell membranes and it also helps in the formation of disulfide bonds in proteins. It also acts as a free radical scavenger, detoxifying agent, an anti-oxidant agent and an important cofactor in the synthesis of leukotrienes and the uptake of amino acids for the enzyme Glutathione peroxidase.
Structure
Glutathione is a tripeptide, composing of 3 amino acids. These amino acids are –
– Glycine
– Cysteine
– Glutamic acid
Glutathione for Lightening Skin Tone
Every female wants to have fair and glowing skin, for which she uses various beauty soaps, creams, and other beauty products and even undergo Cosmetic surgery procedures. All these beauty products show a temporary result. These products damage our skin as they contain various chemicals.
Glutathione is a wonderful chemical used in skin whitening creams for whitening the skin up to 3-4 shades. This chemical has shown instant and wonderful results in skin whitening purposes as it reduces the melanin in the skin.
How to use Glutathione for Skin Whitening?
Glutathione is available in various forms for skin purposes – pills, soaps, creams, injections, and lotions. To have good results in skin whitening and brightening, min 500mg glutathione per day usage should be needed along with a double amount of the vitamin C intake in your diet.
How Glutathione Whitens the Skin?
As it is a well-known fact that Glutathione is very helpful in lightening the skin tone but its results are not permanent. Once you will stop using these products, results will vanish after some time so use it regularly to have good results. Glutathione removes the pimples, blemishes, ulcers, dark circles, freckles and wrinkles from the face and improves the skin texture and tone, imparting brighter and whiter skin. It also removes toxins from the skin.
Herbal Remedies to Increase the level of Glutathione by Planet Ayurveda
Planet Ayurveda offers the best herbal products to increase glutathione production and to make skin lighter and brighter. All these herbal products are pure, natural and vegetarian. All products are safe to use for a prolonged period of time and are not having any side effects.
Planet Ayurveda offers the following herbal medicines to increase Glutathione levels –
Radiant Skin Hair Capsules
Cleopatra Butter
Manjishtha Capsules
Immune Booster
Amalaki Rasayan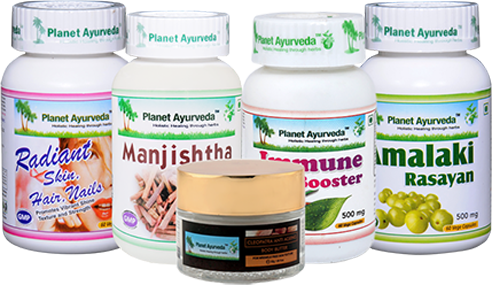 1.   Radiant Skin Hair Nails Formula Capsules
It consists of herbs like – Ghritkumari, Majisthaand Chirata.
Benefits – It helps to keep our skin healthy, removes toxins from the body and balances the three doshas. It also helps in supplying oxygen to skin cells, improves blood flow and increases the strength of the skin tissues. It helps in decreasing the melanin production and increase Glutathione production, thus helps in providing whiter and brighter skin.
Dosage – 2 capsules twice daily with plain water after meals.
2.  Cleopatra Anti-Ageing Body Butter
It is composed of – Olea Europaea Oil, Glycerin Almond Oil, Shea Butter, Wheat Gram Oil, Jojoba Oil, Moavis CCTG, Propylene Glycol, Structure XL, Moavis 1905, D.M. Water Aloe Vera Extract, Perfume, Ginol 16, BHA, Olive Oil, Dry Flo TS, and Iscaguard PEG.
Benefits – These herbal ingredients helps in promoting the elasticity of the skin, remove wrinkles and hydrates the skin. These herbal ingredients help in increasing the glutathione levels in our body and provides fair and bright skin.
How to use it – First of all clean your skin and apply it over your skin and neck region, during day and night time. If your skin is little sensitive, you may experience a tingling sensation. If it happens, wait for 10-15 minutes after cleansing and then apply it.
3.  Manjishtha Capsules
These capsules have "Pittahara" property and are useful in pacifying the vitiated Pitta and Kapha doshas.
Classical Reference regarding Manjishtha – It is as follows –
(Reference – Bhava Prakasha Nighantu, Haritakyadi Varga Shloka no. 190-191)
Meaning – In this Shloka the qualities and properties of Manjishtha have been explained. It states that Manjishtha is sweet, bitter and astringent in taste with hot in potency. It improves voice quality and improves the complexion of the skin. It works as a good antidote, helps to treat all types of vaginal disorders and Kapha disorders like – cough, cold, and congestion. It is very helpful in treating ear, eye disorders, bleeding disorders, and skin disorders. It has shown great results in treating diabetes, herpes infection, and blood diseases and enhances the progress of healing of wounds.
Benefits – Manjishtha capsules have shown good results in improving skin complexion. These capsules boost up the immune system, removes toxins from the body due to its ability to penetrate deeper body tissues and is a good blood purifier, thus helping in providing supple skin by increasing the Glutathione production.
Dosage – 2 capsules twice daily with plain water after meals.
4.   Immune Booster
It is composed of – Grape seeds (Vitis vinifera), Bhumi amla (Phyllanthus niruri) and Amalaki(Emblica Officinalis).
Benefits – Immune Booster capsules improve the functioning of the immune system. These capsules also protect the body from free radicals and toxins and are useful in almost all diseases. These capsules help in increasing the level of glutathione in the body and helps in providing brighter & glowing skin.
Dosage – Two capsules once or twice in a day with water after meals.
5.  Amalaki Rasayan
Pure standardized extract of Amalaki(Emblica Officinalis), is used to prepare Amalaki Rasayan.
Benefits–It is the best anti-aging, anti-diabetic herb and also helps in balancing the tri doshas in the body. It is the rich source of vitamin C.This herb fights against various viral, fungal and bacterial infections and also very beneficial for our eyes. It increases the total glutathione level, thus helps in imparting fairer skin.
Dosage – One or two capsules once or twice in a day with water after meals.