Ayurvedic Management for PTSD (Post Traumatic Stress Disorder)
Stress is a huge word in the present scenario and the root cause of many health related issues. Every three out of five are suffering from stress somehow. Stress can be elaborated as the change leads to physical, emotional, or psychological strain. Stress deteriorates health, productivity, mood, relationships and quality of  our life. Post Traumatic Stress disorder is also a kind of Stress , emerges in  a person's life after he/she encounters a traumatic event. As it is being said, when something traumatic happens in your life it rocks you to the core and you feel like the world is no longer a safe place for you. So here in this article we shall be discussing the causes, management and all the important points regarding Post traumatic stress disorder.
INTRODUCTION
As post traumatic stress disorder's explanation is already cleared from the name post rauma that means stress happening after some trauma that is shocky or scary or life threatening event. When one is going through any kind of traumatic event, the body has a mechanism that develops a "fight and flight" response to protect the person from any harm. Reactions range following trauma varies from person to person, yet some people recover from the symptoms naturally. But some people continue to feel the same even when they are no longer under the stressful condition that the person is diagnosed with Post traumatic stress disorder. In Ayurveda mansik roga (mental disorders) Or abhighata (physical trauma)
CAUSES OF POST TRAUMATIC STRESS DISORDER
Accidents
Physical or sexual abuse
Abuse
Sudden or unexpected death of a loved one
Life threatening  prolonged illness
Stress related to pregnancy
Childhood mental abuse
SIGN AND SYMPTOMS
Flashbacks of the events
Nightmares
Insomnia
Mood swings
Anxiety
Physical symptoms like headache, nausea, trembling or sweating
Irritable or hyper aggressive
Frightening thoughts
Difficulty in concentration
RISK FACTORS FOR POST TRAUMATIC STRESS DISORDER INCLUDES
Having no social support after the event
Getting hurt
Hopelessness
Seeing people hurt or killed
History of mental illness or substance abuse
Childhood traumas
DIAGNOSIS OF POST TRAUMATIC STRESS DISORDER
Screening
Assessment
ASSOCIATED MENTAL CONDITIONS WITH POST TRAUMATIC STRESS DISORDER
Anxiety disorders
Suicidal feelings
Self harming tendencies
Dissociative disorders
Depression
Impared cognition
MANAGEMENT
Psychotherapy or counselling
Group therapy
Prolonged exposure therapy
Cognitive behavioural therapy (CBT)
Antidepressants
Sedatives
Yoga and  pranayam (breathing exercise)
Meditation
Including sports in daily routine
Spiritual practices
Ayurvedic aspect and management of Post Traumatic Stress Disorder (PTSD)
Post traumatic stress disorder is a serious health condition a person going through after experiencing any kind of trauma such as accidents, physical or sexual abuse, death of the loved ones etc. It makes it difficult for the person to get out of the stressful condition and revolves around the same circle of thoughts that further deteriorates mindfulness of the person.
Ayurveda is an ancient science which believes in the healing process. According to ayurveda the physical trauma that means Aaghat is a aagnatuj vyadhi aggravates the vata dosha in the body and the symptoms of vata dosha like pain, overthinking, stress, vertigo,depression  etc supremely correlates with post traumatic stress disorder.
Post traumatic stress disorder leads to Manovaha Strotodhusti (that is blocking of all the energy flowing channels of mind). Hridya (Heart) is considered to be the place of the mind's energy channels. Happening of unfortunate experiences develops negative emotions that imbalances the mental channels that leads to psychological imbalance.
Ayurvedic principles for managing the post traumatic disorder is balancing Vata dosha and increasing jatharagni (digestive fire) so that dhatu formation is balanced that provides nourishment to the body.
Management protocols include complete rejuvenation and detoxification shirodhara, takradhara, basti (medicated enema), virechan (induced purgation) etc. Medhya Rasayana (nootropic herbs)  are very effective in post traumatic stress disorder to build cognitive abilities. Four Medhya rasayana Mandookparni (Centella asiatica), Yastimadhu (Glycyrrhiza glabra ), guduchi (Tinospora cordifolia), shankhpushpi (Convolvulus pluricaulis) are being told by Acharya Charaka.
Yoga and meditation should be included in an everyday regime to rejuvenate the body and mind, to purify thoughts that lead to increased happy hormones (endorphins)  and increase patients' integrity.
Some ancient formulations include saraswatarishta, brahmi vati,  purana ghrita, panchagavya ghrita and various others to effectively manage post traumatic stress disorder.
HERBAL REMEDIES FOR POST TRAUMATIC STRESS DISORDER (PTSD) BY PLANET AYURVEDA
Planet Ayurveda is a herbal manufacturing unit and is a renowned GMP certified company. Products prepared by Planet Ayurveda are 100% pure, herbal, vegetarian and natural supplements formulated under the supervision of MD experts. Formulation are in the form of vatis (tablets), churan (powder), liquids, jams, capsules.With the goodness of herbs Planet Ayurveda has formulated many formulations for the Ayurvedic management of polycystic ovarian disorder.All the herbs formulated under the guidance of Ayurvedic Context.These herbs are pure and unadulterated.All these herbal remedies are free from preservatives, additives and chemicals.
FOLLOWING ARE THE DESCRIPTION OF FORMULATIONS
NEUROGENIE CAPSULES
STRESS SUPPORT
MAHAKALYANAKA GHRIT
ARJUN TEA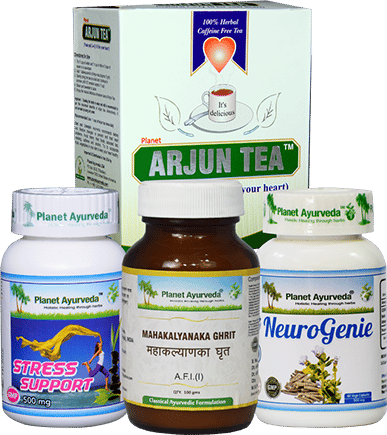 1. NEUROGENIE CAPSULES
Neurogenie  capsule is the formulation of Planet Ayurveda that contains herbs like brahmi (Bacopa monnieri), ashwagandha (Withania somnifera). Both brahmi and ashwagandha are rasayan that mean it has the power to rejuvenate. Ashwagandha is considered to be anti-stress, anti-tumor, neuroregenerative, and anti-arthritic. These capsules are very helpful in managing the symptoms of paranoid personality disorder
Dosage: Two capsules twice a day with lukewarm water after meals.
2. STRESS SUPPORT
Stress supports a product herbal formulation prepared by Planet Ayurveda. The herbs in the formulation are Ashwagandha (Withania somnifera), tagar (Valeriana wallichii), brahmi (bacopa monnieri). These  herbs present in formulation enhances brain function and improves memory. Ashwagandha and brahmi called as rasayana are adaptogens that increase resilience to stress. Tagar also is a neuroprotective herb. Hence the combination of herbs are really effective in managing post traumatic stress disorder.
Dosage:1-2 Capsules twice a day with plain water after meals.
3. MAHAKALYANAKA GHRIT
Mahakalyanaka Ghrit a preparation by Planet Ayurveda is a classical formulation mentioned by our Aacharyas in texts for manas vyadhi. It includes herbs like Shweta Sariva (Hemidesmus indicus),  brahmi (bacopa monnieri), tagar (Valeriana wallichii), Manjistha (Rubia cordifolia), jati (Jasminum officinale) and some other. The key benefits of Mahakalyanak ghrit is it acts as a brain and nervous  tonic. It shows immunomodulatory effects and has anti-inflammatory properties.
Dosage: 1-2 tsp with lukewarm water twice a day
4. ARJUN TEA
Arjuna tea is an amazing formulation of Planet Ayurveda.  Arjuna (terminalia arjuna) is significant in reduction of the level of stress hormones that is cortisol. It relaxes the mind and body. Other herbs included are punarnava (Boerhavia diffusa), pipal twak (Ficus religiosa), dalchini (cinamomum zylenica). The combination of these herbs are really effective in managing post traumatic stress disorder.
Contact Planet Ayurveda Support Team to provide you the costing/ordering and delivery information at – costing.planetayurveda@gmail.com or Call at 0172-521-4040 (India), +91-172-521-4040 (Outside India) or Whatsapp at (+91) 842-749-4030
.
CONCLUSION
As we discussed, post traumatic stress disorder (PTSD) is a mental health condition in which a person has various psychological symptoms including anxiety, fear, mood swings, disturbed, mind etc after a person experienced some traumatic event. Time is a great healer for any kind of trauma but some people find it very  difficult to get over it. Ayurveda in its text has mentioned great herbal formulation as well as procedure to manage it effectively. It includes various mindful techniques that reduce the symptoms or the disease and provide a positive approach towards life.